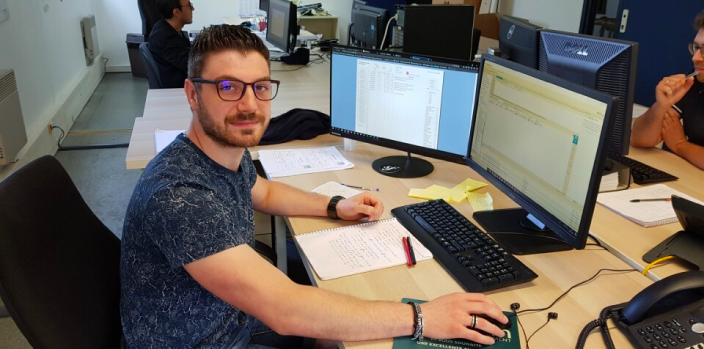 Tell us about your job.
I am an IT developer, and I develop web applications for external clients. My job is to meet the needs of customers on the web. I mainly do coding, and I build websites and small applications.
What do you like about what you do?
Constant evolution. There are always new technologies. It's a job where you have to be very curious, and I like that!
What I also like is the satisfaction of knowing how to read the code and understand all the complexity. Seeing the result of my work is also what I love about my job. It's a bit of "pride."
What does a typical workday look like, and what projects are you currently working on ?
A typical day begins with the processing of emails. Then, with the team, we have a quick meeting on what was done the day before, any problems encountered, and what we will do during the day. Subsequently, I process the files that have been updated, and I develop new tasks (Ticket).
Not long ago, I just finished a crossword/arrow word automation project. I started this project from scratch, and today the client can automatically generate the words with the definitions.
What made you most proud of Nord Compo ?
What makes me most proud is the work we do here. When I got here, and I was introduced to the diversity of the book business, and I was a little confused. In the end, I realize that these are interesting, diverse, and advanced projects.
Another thing that I like here is the agreement with colleagues.
Finally, describe Nord Compo in 3 words ?
I would say evolution, project, career.
Quel est le Monsieur/Madame qui décrit le mieux ta personnalité au boulot ?
Monsieur Curieux ou Monsieur Joie de vivre parce que je suis toujours de bonne humeur.
Ton langage favori ?
Le PHP, premièrement parce que c'est un langage web et parce qu'il y a des choses sur PHP qu'on ne retrouve pas ailleurs, comme les tableaux associatifs par exemple.
Si tu pouvais échanger ton poste avec quelqu'un, qui serait cette personne ?
Mon poste me plaît, je ne souhaite pas l'échanger, mais si je devais choisir, je dirais que je l'échangerai avec le fondateur de Symfony, il a créé quelque chose de super puissant. Ou pourquoi ne pas échanger ma place avec un joueur de foot ! 
Quel conseil à une future recrue ? Pourquoi rejoindre l'équipe IT de Nord Compo ?
Tout d'abord les collègues sont performants et particulièrement volontaires pour transmettre leurs savoirs aux nouvelles recrues. Je suis passé par là, tout d'abord en tant que stagiaire, puis en tant que collaborateur, ils sont tous très présents.
J'ajouterai que les projets sont variés, intéressants et pas du tout répétitifs. Il y a aussi une bonne ambiance et personnellement c'est ce que j'ai tout de suite aimé ici. 
Pour nous rejoindre : recrutement@nordcompo.fr #nordcomporecrute