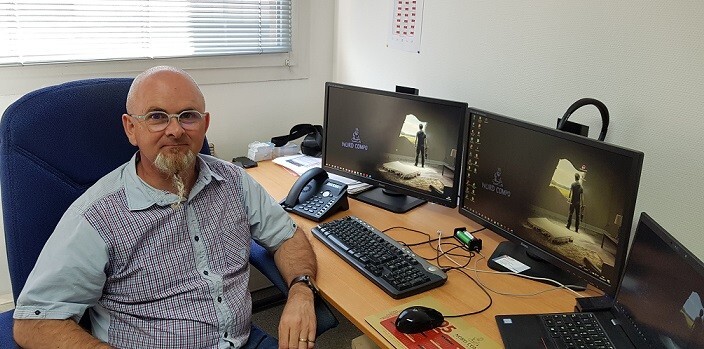 Tell us about your job  
My job is quite broad : it includes everything related to design, IT development in publishing as well as project management and customer relations.
It's all about setting up tailor-made tools that allow authors or contributors to write, distribute and publish content. I pilot a set of automated products that handle the typesetting and the digital distribution of the content.
Today, I mainly manage editorial platforms for tourist guides. My job consists of developing and implementing tools for adding content comparing POI (Points of Interest: restaurants, hotels, places to visit), to write editorial contents, to manage and to reference media (image , video, sound). We set up workflows that allow us to know at all times the status of the development of the content and therefore of the guide itself.
We are also working on two types of pure PAO robot processing. One of them can be activated manually and another which is called "web service robot", which is a server at the client's offices or at Nord Compo, which, through the protocols in place, triggers the layout automatically.
What do you like about what you do ?
What I like is that my work is not repetitive. For each client and for each project, it is necessary to question oneself, to find a new technical solution.
What does a typical work day look like and what projects are you currently working on ?
I juggle a few organizational meetings, I also study new projects or requests for changes. And from time to time I have client meetings so I travel. If there are modules that I develop myself, feedback or changes to make, I take care of them during the day at different times.
The days are not alike because there are emergencies that can pop up. I try to give myself time during the week to absorb certain things that may come to pass. You're never immune to a bug, for example.
Right now, I'm working on an editorial platform, a collator and a page layout robot, all at the same time.
What has made you most proud at Nord Compo ?
The invention of my first editorial platform for one of our clients with whom we still work today. This is the entry point that allowed us to get to work on all the other platforms.
Finally, describe your role at Nord Compo in three words ?
The three words that describe me are: Imagine, absorb, develop.
Who is the man/woman who best describes your personality at work ?
I don't know them all, but if one can invent, Mr. Autonomous and Creative.
Your favorite language ?
It's PHP. I find this language very open, there is a very large community behind it and it is easy to access.
If you could swap your position with someone, who would that person be ?
My position suits me as it is, so it would not be an exchange but a mixture of positions with a more important commercial approach.
What advice for a future recruit? Why join the NC IT team ?
Rester soi-même, être curieux, débrouillard, un peu autodidacte, et dynamique !
Be yourself, be curious, resourceful, a little self-taught, and dynamic !